L'oasis Lodge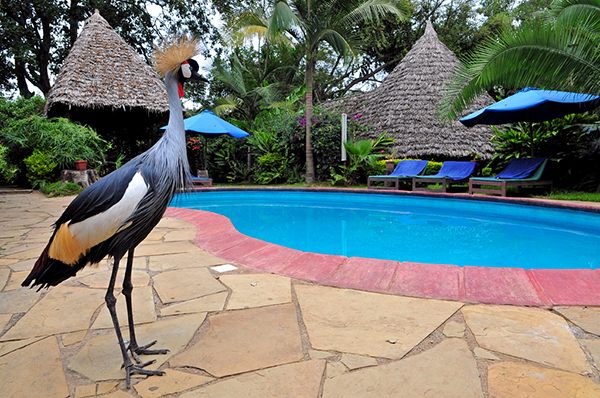 Great care has been taken constructing this quaint lodge. Tucked away in a quiet residential area Bandas on Stilts at l'Oasis Lodgeof Arusha known as Sekei, L'Oasis Lodge is set in lush, private grounds facing Mt. Meru. Offering unique accommodation in spacious surrounds inhabited by an 'extended family' of exotic flamingos, crowned crane, spoonbills and herons - you will immediately feel part of Africa, relaxed and at home. Suitable for groups and the independent traveller alike, it is an ideal base for those setting off on an adventure from Arusha (the Mecca of Tanzania's safari industry).

Rooms on stilts offer superb views of Mt. Meru and its undulating surrounds, whilst rooms at ground level are spacious enough to accommodate family groups. With only twenty two rooms, the privacy of guests is ensured along with a convivial affinity between staff and guests. An additional annex called 'Backpackers Paradise' offers 12 twin rooms with communal bathroom facilities. The same care and attention has been taken in its construction and it offers ideal comfort for groups looking after their pennies! Facilities : Additional services include laundry; an operator assisted telephone system, cyber-café and conference facilities that can accommodate up to 140 pax. L'Oasis also offers outside catering services.
A double room costs 100$ per night.